Design Makeover: LA Living Room Goes for a Sexy NYC Vibe
Design, News, Home Improvement
Caitlin McCarthy and her design partner, Caitlin Murray, spend their days designing stylish interiors for their clients through their firm, Caitlin + Caitlin Design Co. So when McCarthy bought a 725-square-foot, ninth-floor Los Angeles loft in a historic converted office building downtown, she knew just what she wanted. "I've always wanted to live in New York and have the 'Sex and the City' lifestyle," says McCarthy. "I purchased a home in Los Angeles and really wanted to create something that felt SoHo and had that Carrie Bradshaw kind of feel."
When McCarthy started brainstorming for the design of her 17-foot by 13-foot loft living room, she decided she wanted to go with a navy and mint color palette with touches of aqua and celadon – and fell in love with a soft mint daybed that serves as the centerpiece of the space. "A lot of times, people believe furniture needs to be against the wall, but placing it more in the middle helps break up the space and creates two sitting areas," she says.
She placed a pair of comfortable teal leather chairs on one side of the daybed and two vintage chrome chairs she reupolstered in blue velvet on the other. For storage she included a white bar cabinet under her flat-screen TV and an imperial-green tray table under one of the living room's large windows for small plants and accessories. The tray table sits low and adds a key punch of color.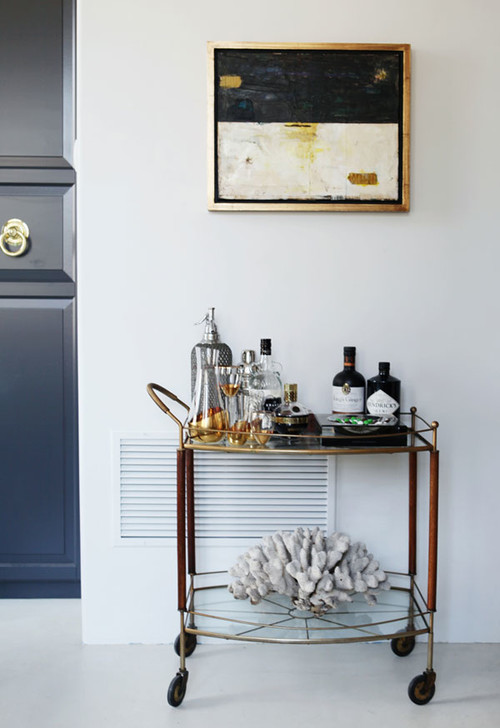 Contemporary Entry by Los Angeles Interior Designers & Decorators,
Caitlin & Caitlin Design Co.
Coffee table: Jayson Home (no longer available), throw blanket: Hermès
A vintage midcentury brass, glass and wood bar cart with a masculine feel sits under a painting by McCarthy's mother, artist Jan McCarthy. "This painting is one of my personal favorites, and it's technically on loan," says McCarthy. "It really complements the bar cart."
Walls painted a custom gray (a color similar to Benjamin Moore's Gray Owl) provide a pleasing backdrop for the chic living room furnishings, and contrast the unit's exposed brick walls. "Because my loft overlooks an alley, it would have felt too moody with a dark color," notes McCarthy. "I'm the queen of dramatic walls and think they're so rich, but in this case it made sense to go with a light gray."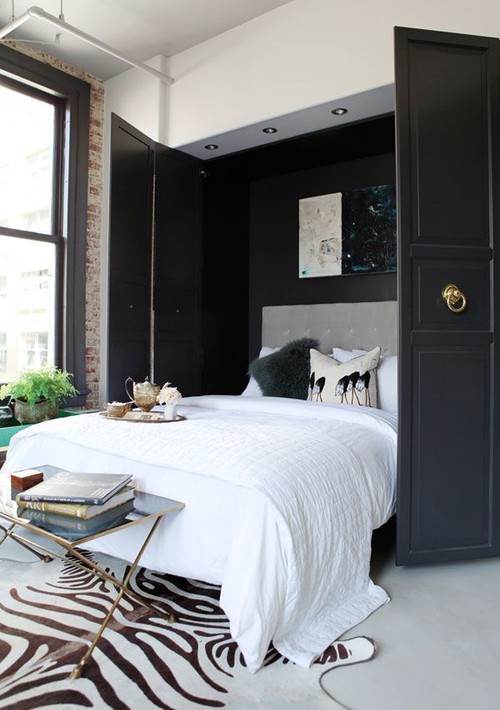 Contemporary Living Room by Los Angeles Interior Designers & Decorators,
Caitlin & Caitlin Design Co.
A nook, original to the home, holds one of the great features of McCarthy's flexible living room: a hidden queen-size Murphy bed behind an Ikea cabinet customized and factory sprayed the same color as her window frames (Cracked Pepper by Behr in a satin finish).
Large brass knockers from Restoration Hardware echo other brass accents in the room and give the cabinet that holds the bed a finished look.
A tufted gray headboard added for looks and comfort is clipped onto the bed by hooks and removed when McCarthy closes the cabinet. Another painting by McCarthy's mother, chosen for its dramatic composition and colors, completes the impressive reveal when the cabinet is opened.
The hidden bed gives overnight guests a stylish and comfortable sleeping spot, and also represents McCarthy's high-low decorating approach.

Contemporary Dining Room by Los Angeles Interior Designers & Decorators,
Caitlin & Caitlin Design Co.
The living room (in the distance in this photo) is open to the kitchen and the dining area. "I love the idea of having a salon, if you will," says McCarthy.
Since the designated rooms share space, McCarthy places a black accordion screen between the dining area and her bedroom when she is hosting a party in the living room or a dinner in the dining area.
Her living room and the entire loft reflect her design philosophy. "You want to try and layer different textures and materials and sizes and shapes," advises McCarthy, "so your rooms have a collected feel, and give people a reason to explore them each time they come to your home."